Tagging
ALL TAGS MUST BE CREATED BY USING THE ELECTRONIC SYSTEM AND MUST BE PRINTED ON 8.5 X 11 WHITE CARDSTOCK. TAGS PRINTED ON REGULAR WEIGHT PAPER WILL NOT BE ACCEPTED. PLEASE
DOUBLE TAG ALL LARGE ITEMS!!!!!

PLEASE NOTE THAT WE ARE ACCEPTING JUNIOR GIRLS CLOTHING BUT SPACE FOR THESE ITEMS IS LIMITED. As a result, we will stop accepting these items if the racks fill up. We will also only accept temes that are truly Juniors (Odd # sizes 1, 3, 5, etc) and not Women's clothing (i.e. 2, 4, 6, etc).
PLEASE TAKE A MOMENT TO READ THE TAGGING GUIDELINES BELOW (and take a moment to read over the list of accepted items under that particular tab on the home page):
All items must be on hangers facing the left (see pictures); all clothing sized 2T and up must be on metal/wire hangers with the hangers going through the sleeves. Clothing that is under 2T can be on wire or baby hangers.

Infant onesies need to be in plastic bags with the tag taped to the inside of the bag. They may be grouped together in a set if you choose to do so.

Use SAFETY PINS to affix the tags to the UPPER RIGHT hand corner of each item.

SAFTEY PINS MUST GO THROUGH THE TAG AND CLOTHING TWICE to prevent the tags from falling off during the sale.

For clothing that is 2 pieces, see pictures for an example of the correct way to hang the items.

Large items such as strollers, bouncy seats, car seats and large toys must be DOUBLE TAGGED (see picture for example).

Shoes must be in a SEALED plastic bag with the tag taped to the inside of the bag.

RED DOT items will NOT be sold at half price on Saturday. If you print your tags in black and white, you will need to use a marker to color your dots red.

Books need a tag taped to the back cover.

All baby BLANKETS should be in a sealed plastic bag with the tag taped to the inside.

Toys should be working with good batteries at drop off!

Please do not affix tags directly onto WOODEN PUZZLE pieces as this will cause damage when a shopper removes the tag after purchase. Put wooden puzzles in a sealed plastic bag with the tag taped to the inside.
(above) Example of how to pin pants correctly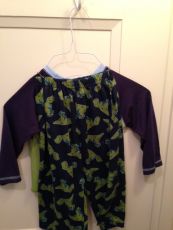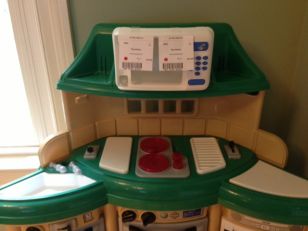 (above left) Example of THE BACK of a 2 pc outfit with the pants safety pinned on both sides to the back of the shirt and through the hanger)
(above right) Example of a LARGE item that must be DOUBLE TAGGED
(above left) Example of a pair of shoes sealed with the tag taped to the INSIDE of the bag.
(above right) Example of the hanger facing left and the tag on the upper right side of the item